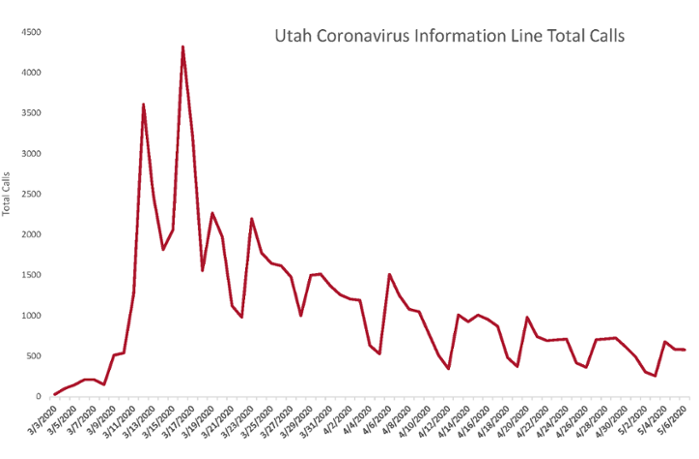 (Salt Lake City) As the COVID-19 pandemic first reached Utah in late February 2020, the Utah Department of Health (UDOH) quickly realized the need to provide accurate information to the public and answer common questions. The Utah Poison Control Center (UPCC), located in Salt Lake City at the University of Utah, quickly activated a call center to handle COVID-19 questions at the request of UDOH.
"We can always depend on the poison control center to help with public health emergencies," said Jenny Johnson, public information officer with the Utah Department of Health. "As calls started pouring in from the public about what COVID-19 meant for them personally, we needed a way to quickly handle the volume of calls while still focusing on our main job of managing and coordinating the emerging outbreak in Utah."
UPCC director Amberly Johnson, PharmD said, "We've had a longstanding relationship with the Utah Department of Health to help in these types of situations. Thanks to UPCC staff, support from the state, and many healthcare professionals, and public health volunteers, we were able to quickly get a call center up and running to help Utahns protect themselves and others from COVID-19."
On March 3, 2020, the Utah Poison Control Center started operating the Utah Coronavirus Hotline in addition to handling regular poison exposure calls. To date, over 60,000 Utahns have called the coronavirus hotline to hear messaging about COVID-19 or to speak with trained hotline staff. UPCC has spoken directly with thousands of callers. Others have been connected directly to a healthcare system such as Intermountain or University of Utah Health or been pointed to internet resources to get more information.
Using guidance from the Centers for Disease Control (CDC) and UDOH, UPCC employees and volunteers have worked around the clock to assess patients for signs and symptoms of COVID-19 and help them get appropriate care. This includes helping asymptomatic callers determine their risk for getting COVID 19, educating callers on various topics related to this coronavirus such as symptoms to watch for, prevention tips, information on incubation period, disinfecting, and possible treatments.
"I am so grateful to my staff and all of the volunteers that have stepped up to help. At our peak call volumes, we have been getting more than 10 times our usual number of calls," said Dr. Johnson. Many health professional students' clinical rotations were cancelled at healthcare facilities due to COVID-19, and many students were short clinical hours needed towards graduation requirements. The Utah Coronavirus Information Line has provided over 4,000 clinical hours to many health professional programs including; medicine, nursing, pharmacy, physician assistants, and public health. Now many of these students can graduate on-schedule and enter into the work force at a time where additional healthcare professionals are greatly needed.
The Utah Coronavirus Hotline is staffed 24 hours a day, 7 days a week and can be reached toll-free at 1-800-456-7707
. Translation services are also available. Find Additional information online at coronavirus.utah.gov.
ABOUT THE UTAH POISON CONTROL CENTER
The UPCC is a 24-hour resource for poison information, clinical toxicology consultation, and poison prevention education. The UPCC is a program of the State of Utah and is administratively housed in the University of Utah, College of Pharmacy. The UPCC is nationally certified as a regional poison control center.