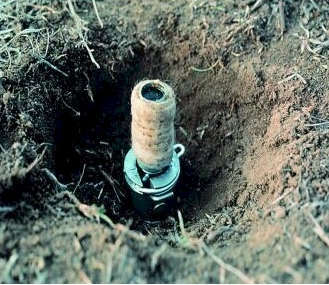 The United States Department of Agriculture, Animal and Plant Health Inspection Service, Wildlife Services would like to remind you that M-44 sodium cyanide devices are used in Utah. The ejector device contains a capsule of sodium cyanide that is placed in the ground and scented with bait/lure. This device is used in specific situations to control coyotes to protect livestock and endangered species. This device is primarily used on private lands but may also be used on federal land in any county in the state. Areas where the M-44 sodium cyanide device is used should be marked with signs. While human exposure to this device is extremely unlikely, be aware that it contains 91% sodium cyanide, which is potentially lethal. A recent case in Idaho involved a dog and a child who were accidentally exposed. The dog was killed immediately and the child required emergency care. If someone is exposed to a device that has discharged into them, call 911 immediately. Contact the Utah Poison Control Center for assistance in management with antidotes. Pets exposed should be taken immediately to an emergency veterinary provider.
ABOUT THE UTAH POISON CONTROL CENTER
The UPCC is a 24-hour resource for poison information, clinical toxicology consultation, and poison prevention education. The UPCC is a program of the State of Utah and is administratively housed in the University of Utah, College of Pharmacy. The UPCC is nationally certified as a regional poison control center.