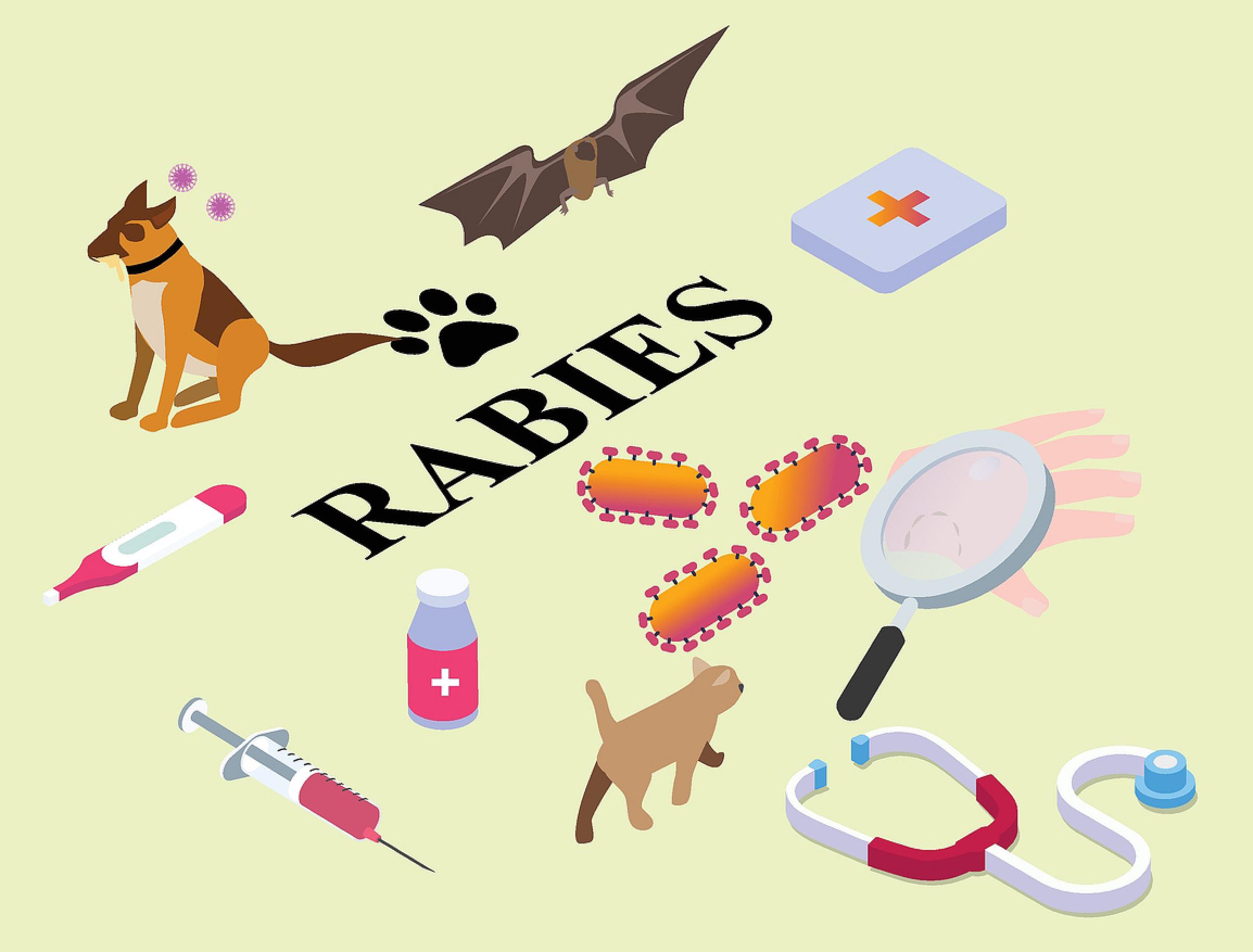 Rabies is a virus that causes a deadly infection and only affects humans and other mammals. While rabies infections in humans are very rare in the United States, with only 1 or 2 cases a year, more than 50,000 people receive treatment to prevent rabies annually1. Many people call the poison center wondering if they need to get shots to prevent rabies after an animal bite. Treatment after a bite to prevent infection is called post-exposure prophylaxis or PEP.
In the United States, the most common carriers of rabies are bats, skunks, foxes, and raccoons. Other animals such as birds and reptiles cannot get rabies. Due to a robust vaccination program, domestic dogs and cats are rarely infected and have not been responsible for a human case of rabies since the early 1990s. Small mammals like mice, rats, squirrels, hamsters, and rabbits have never infected a human with rabies.
Outside of the United States, the majority of human rabies cases are a result of dog bites. A few cases of human rabies in the US are a result of a dog bite that happened while visiting a foreign country. Bats are responsible for the majority of rabies infections in the United States1.
In 2018, a Utah man died from rabies after handling bats in his home on numerous occasions2. In 2021, a child in Texas died from rabies likely from an unrecognized bat exposure3. Neither patient received PEP treatment.
A person can get rabies by coming in contact with the blood or saliva of infected animals and human cases most often occur after being bitten by an infected animal. However, unlike bites from foxes, raccoons, or dogs, bites from bats may go unnoticed as their fangs do not always leave obvious puncture marks in the skin. Anyone with direct contact with bats should see a doctor to evaluate the need for PEP treatment.
When someone is bitten by an animal with rabies, getting a rabies vaccine can also prevent an infection from developing. For bites from domestic dogs, cats, and ferrets, no rabies shots are needed if the animal can be observed for 10 days to see if it develops symptoms. There is no need to rush to get PEP treatment. In fact, no one has ever gotten rabies from an animal that was observed for 10 days.
Bites from wild animals such as skunks, raccoons, foxes, or bats will require PEP treatment unless the animal can be safely trapped and tested.
You should always consult with the poison control center, your doctor, or your local health department if you are bitten by an animal that may have rabies to determine if you need PEP treatment. Even if you do not need PEP treatment, an animal bite may need medical care to prevent infection or help the wound heal.
Further Information:
​​​​References:
Pieracci EG, Pearson CM, Wallace RM, et al. Vital Signs: Trends in Human Rabies Deaths and Exposures — United States, 1938–2018. MMWR Morb Mortal Wkly Rep 2019;68:524–528. DOI: http://dx.doi.org/10.15585/mmwr.mm6823e1
Peterson D, Barbeau B, McCaffrey K, et al. Human Rabies — Utah, 2018. MMWR Morb Mortal Wkly Rep 2020;69:121–124. DOI: http://dx.doi.org/10.15585/mmwr.mm6905a1
Blackburn D, Minhaj FS, Al Hammoud R, et al. Human Rabies — Texas, 2021. MMWR Morb Mortal Wkly Rep 2022;71:1547–1549. DOI: http://dx.doi.org/10.15585/mmwr.mm7149a2
Author: Michael Moss, MD, FAACT, Medical Director, Utah Poison Control Center